Best Encrypted Email 2023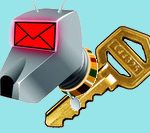 Best Encrypted Email 2023.
@i3,net provides individual internet freedom, privacy and security. Your Email is uncensored coming or going and anywhere in between. @i3.net meets the highest standards set for Email security, we have an A+ rating, but because we only have individual users there are no logging or retention regulations. There are no group or business accounts on our servers only individual users. We only scan for known vulnerabilities, viruses, spam, malware.
All accounts have built-in Email, Calendar and Contacts.
The same email you see at your  home or office PC is the same that you see with your mobile device, whether it's another portable laptop, notebook, tablet, or phone.  It does not matter whether the device is Apple or Android, Windows or Linux.
We fully support of the IMAP "DLE" function.  This is the mechanism which allows for real-time notification of new mail.
Our system has been designed around a Webmail interface which has been enhanced with commercial themes and plugins.
Most other systems are designed around their backend systems and the user is relegated to using their rudimentary Webmail interfaces.
Our Webmail package includes "Responsive" themes.  These dynamically adapt the look and feel of the web-based interface to match the display resolution of the connecting device.
From within Webmail, multiple identities and signatures can be defined.
Users can manage their passwords.
Encryption key-pairs can be created to send email encrypted with PGP technology.
Pre-defined ("canned") responses can be setup, to quickly reply to Emails.
Complete Folder management allows the customer to create folders on the server.  These are available to your Email client and portable devices. Powerful filters allow for functions like automatically moving messages to specific FolTheders, or creating Vacation auto-responders.
The driving force behind Internet security today is the Payment Card Industry's (PCI) Data Security Standard (DSS).  This standard is maintained by PCI's Security Standards Council (SSC).  We are among just a few Email providers that support the latest changes to PCI/DSS that were adopted on June 30, 2018.  We have an A+ rating.
We have the ability to specify, and enforce, the order in which encryption ciphers are used.  We use only strong ciphers, and we will enforce the use of those with PFS (Perfect Forward Secrecy) above all others.
We use cloaking to mask your IP address.  Details about your WAN IP address are not visible to the recipient(s) of your Emails.
We utilize a "reactive" firewall to detect and block threats automatically.
All of your Emails can sit on our servers.  Sent Items, Deleted Items/Trash, Inbox, Archive, whatever; all available to you 24/7.
What happens on the server stays on the server!
The standard amount of storage space allocated to each user is a hefty 10GB.  This can be changed as necessary without any loss of Email.
If your PC crashes, or your regular network is down, you can rest assured knowing that your Emails are safely stored here.
Eliminate any worries about corrupted messages stores or missing messages on your computer.
All Email spools are backed up nightly.
Unlike the commercial Email offerings from Google and Microsoft, all email accounts have built-in Anti-Virus, Anti-Phish, and Anti-Spam protection.
Messages that the system thinks are spam are tagged as such and deposited into each member's "Junk" folder.  Malware-infected Emails are rejected by the system.
We're good with spam! We've enhanced our anti-spam services with over 950 locally developed rule-sets containing over 30,000 signatures.
On cloud servers, we maintain one of the world's largest private IP blacklists.  We track well over half-a-billion spam sources and more than 1.3 million "spamvertized" links in messages.
Why i3.net, because we meet the highest verifiable standards for privacy and security that there are. Our systems were designed to provide privacy and security from the outset.
You can pay for our service with PayPal using any available payment method including Bitcoin, Litecoin, Ethereum, and Bitcoin Cash a credit or debit card or PayPal account through PayPal, they handle the recurring billing, you will be billed $29.95 for the first year and for every succeeding year until you cancel. The only data we keep from PayPal is a transaction ID. That is
Anonymity.
Get your secure email account now for just $29.95 a year