Private Secure Email 2023
Private, Secure Email 2023 for $29.95 a year! With the address you want. @i3.net you're in control. It's like Anti-Virus for your email. We don't collect any personal data, not even at signup, We don't have your phone number. We don't scan or read your mail, we don't have your password so we can't.  Our servers utilize end-to-end encryption and data obfuscation, We use topography not geography to secure our servers.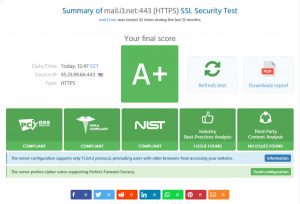 Send or receive large attachments 100mb and  encrypted mail using our built in PGP client, only those intended to can decrypt and read your emails, it's easy to setup and you control the keys.  All email is encrypted in transit and on our servers, all messages incoming, outgoing including messages between users are checked for malicious content, viruses, spyware, spam and known vulnerabilities including whitelists and blacklists, to protect the user and the system. A secure network, fast processing combined with multiple firewalls, server backups. Your information lives on our system in your private directory as long as you let it. Only you have  access to it and only you can delete it.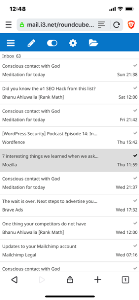 Your connection to our servers is always secure, whether you are connecting from your computer, phone or other device using our native email web client. Our client automatically adjusts for the best view on desktop or mobile devices. Our webmail client is proven by millions of users around the world. Use it on all your devices and your settings and content follow you. Email client, Address Book and Calendar all with one easy to use intuitive interface. OpenPGP encryption is built in, featuring automatic encryption, decryption and integrated key management functionality. Your data is stored on our secure servers in a directory that only you can access.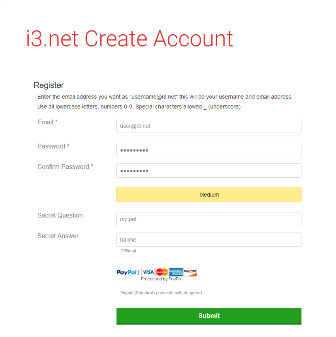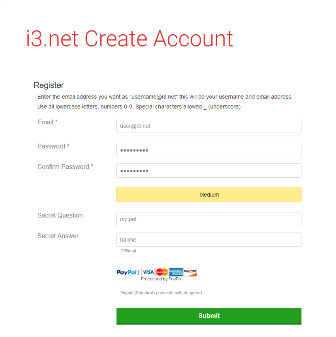 Pay with PayPal via your account using any available payment method including Bitcoin, Litecoin, Ethereum, and Bitcoin Cash or your credit or debit card. We are funded entirely by user fees and have been for over 25 years. We get no government subsidies and have no corporate sponsors. We don't collect, sell or share your information with anyone. Get started now you pay only $29.95 a year. If you decide to cancel your subscription, for any reason, you can do so easily by logging into the member area and clicking on the unsubscribe button  You will be connected to the correct subscription on PayPal , you can cancel there. PayPal is trusted by more than 285 million users worldwide.
Sign up and submit your payment choice with PayPal. Click on the "Create Account" button below fill in the email address you want as "name"@i3.net when finalized this will be your email address and your username. Then type in and confirm your password, don't forget your password, we don't know it we can't get it,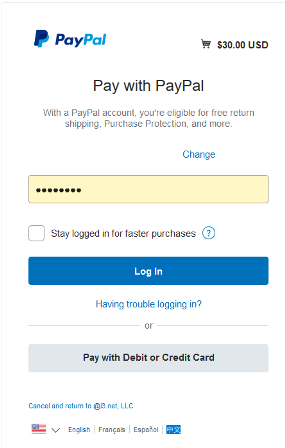 We don't know who you are. Click on submit and you will be taken to PayPal to complete the transaction using your PayPal account or any credit or debit card. if you get an error correct it and click submit again. A username that is already in use will give an error they are checked in real time, enter your next choice and click submit.
After clicking on "Submit" you will be connected to PayPal to complete your payment. You will be charged $29.95 US for each year of email service, this service will automatically renew each year until you2 unsubscribe through PayPal.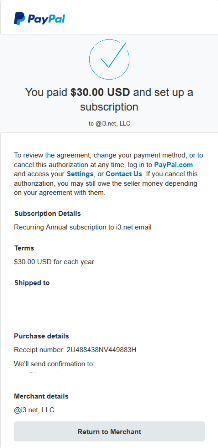 After completing payment you will get a payment confirmation message, at the bottom there is a link to return to merchant, click on it and you will go directly to the login page at https://mail.i3.net.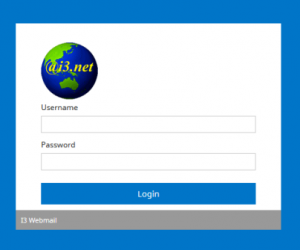 When at the login page enter your (username / email address) and password click on LOGIN, if you are asked to save the login save it, and you have completed your email setup. To check your email from any device go to mail.i3.net in your web browser ad enter your email address as your username and password to login. Do not save this login if you are logging in from a device you do not own.
Private Email 2022 @i3.net. It's time for you to take control, with an email service you can trust.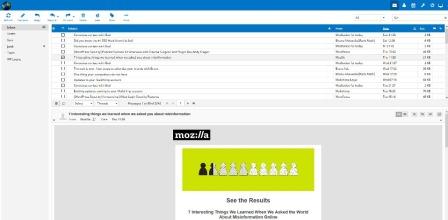 This is the real way to improve your experience, without tracking, fingerprinting, misinformation, disinformation or profiling. The most secure way to use our service is user to user, your mail is on our secure server it never leaves.
30 Day Free trial then pay US$ 29.95/year
   Create Account  


 25 years of continuous operation.
©Copyright 2021 ati3.net, LLC., all rights reserved.