Isn't it time that you take control of your privacy and reputation on the internet?  Eliminate tracking, surveillance and censorship  Not sure where to start? Start here @i3.net we are now offering private, secure, anonymous email service, email designed for individuals. We've been quietly and continuously providing internet services since 1995 as an email service provider and network security consultants.
Private, Secure, Anonymous E-Mail at a reasonable cost. With the address you want. @i3.net you're in control, we provide a secure  personal E-mail service. We don't collect any personal data, not even at signup, we don't scan or read your mail, we don't have your password so we can't.  Our servers utilize end-to-end encryption, we cannot decrypt and read your emails. All messages incoming, outgoing even messages between fellow users are checked for malicious content, viruses, spyware, spam and known vulnerabilities including whitelists and blacklists. to protect the user and the system. A 40 Gbps network hosting over 400,000 businesses and fast processing combined with multiple firewalls, server backups. Your information lives on our system in your private directory as long as you let it. Only you have  access to it and only you can delete it.
Your connectio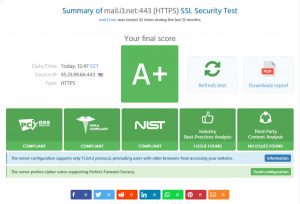 n to our servers is always secure, whether you are connecting from your computer, phone or other device using our native email web client that automatically adjusts for the best view on desktop or mobile devices. We don't have an app and we suggest you not use any app or mail client software built into your computer or phone. Apps, no matter who provides them, have certain terms and conditions that  include some level of data collection and third party sharing which we designed our system to eliminate by using all Open Source solutions. You'll create a shortcut on your home screen that looks and works like an app with no tracking or data collection. Our mail client also includes an address book and calendar that share the same privacy and security as the email and you don"t have to save your information to the cloud or use an added service to have all of it available on all your devices it is that way by design, nothing is stored on your devices or in a cloud. Your data is stored on our secure servers in a directory that only you can access.
Start now by getting your own private , secure anonymous email account when you click on the link below or in the left hand column you be taken to a form, fill in the email address you want as "name"@i3.net when finalized this will be your email address and your username, then type in and confirm your password, don't forget your password, we don't know it we can't get it, The name fields are optional and we use them to address you. Click on submit and you will be taken to PayPal to complete the transaction. if you get an error correct it and click submit again. A username that is already in use will give an error they are checked in real time, enter your next choice and click submit.
After completing payment you may get a message to return to merchant click on it or you will go directly to the login page, enter your username (email address) and password click on LOGIN and you are set.
Sign up for an account now and pay $30.00 a year for excellent service. Use PayPal to pay securely, we never see any of your personal information.
@i3.net 23 years of continuous operation.
©Copyright 2017- 2018 – 2019 ati3.net, LLC., all rights reserved.