What is Email?
What is Email?
What is email? Messages distributed by electronic means from one computer user to one or more recipients via a network. What is mail? Letters and packages conveyed by the postal system.
How does Email Work?
An email server (or mail server) is your digital postal service. It's a machine or application responsible for handling messages. In other words, an email server receives and delivers emails.
When you send or receive mail through the postal service it is in an envelope or package which has a to and from address on it, so it can be properly routed. A mail server works the same way, your email client creates a digital envelope that includes a to and from address and also adds the subject to that envelope.
When you send postal mail it may be routed through through many distribution centers before reaching it's destination. Email works the same way it looks something like this: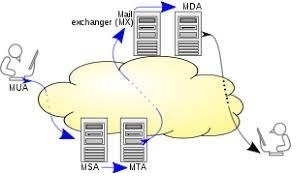 Step A: Sender creates and sends an email. The originating sender creates an email in their Email User Agent (Client) and clicks 'Send'. …
Step B: Sender's MTA (mail Server) routes the email. …
Step C: Network Cloud. ( Mail Travels Through the internet)…
Step D: Email Queue.( Addresses are checked) …
Step E: MTA to MTA Transfer. (user exists and sender is valid mail is transferred) …
Step F: Firewalls, Spam and Virus Filters. (Mail is checked for vulnerabilities)…
Step G: Recipient's MDA delivers mail to mailbox…
When you connect to mail.i3.net using our webmail client your connection is encrypted. Your ISP or VPN provider could see your connection to our server but not the content or where your email comes from or goes to. When you read or write your messages you are not sending them to our server, you are on our server on what is essentially a remote terminal.
The only records of your activity on your computer is in the history in your browser. If your browser setting are set to not save history or to delete history when you close it, there is virtually no record on your device. The next time you login all your messages will be there, on our server in your mailbox, until you @ delete them.
Our servers only accept secured connections. All email and attachment incoming, outgoing and between users on our server are scanned for spam, viruses and malware, in an effort to protect our users and our service.
A question often asked, "Can I use the email client on my device? Yes, we support all the known email clients, but, by using them you introduce a third party in the mix. When you use an email client app on your device your email is visible to them, it is in a folder they control in accord with their user agreement.
Can I encrypt my email? Yes, you can send and receive encrypted email, we have a built in PGP key manager, you can encrypt all email or just the email you select. It takes less than a minute to setup, and you control the keys.
Perhaps you like the convenience of an app you can just click on to open mail. On your phone or tablet, open the login page on your browser and share it to your home screen, you will create an icon that looks like an app just click on it to open mail. On your desktop, pin the tab on your browser.
Start now by getting your own private, secure anonymous email account @i3.net when you click on the "Create Account" button below.  Fill in the email address you want as "name"@i3.net when finalized this will be your email address and your username, then type in and confirm your password, don't forget your password, we don't know it we can't get it,  We don't know who you are. Click on submit and you will be taken to PayPal to complete the transaction. if you get an error correct it and click submit again. A username that is already in use will give an error they are checked in real time, enter your next choice and click submit. You will be charged $29.95 for one year of email service, this service will automatically renew each year until you unsubscribe through PayPal.
After completing payment you will get a message to return to merchant click on it or you will go directly to the login page at mail.i3.net, enter your (username / email address) and password click on LOGIN, if you are asked to save the login save it, and you have completed your email setup. To check your email from any device go to mail.i3.net in your web browser and enter your email address as your username and password to login. Do not save this login if you are logging in from a device you do not own.